Homestead Update: The Ducks Have Arrived!
On Saturday evening, my dad and I went into town to run some errands. One of the things we are beginning to learn with country life, I mean, really out in the country, is that you have to plan all of your errand trips ahead of time! When we lived in town, while it was still a country town without a commercial grocery store, big box stores, or even fast food restaurants there were still things to go to if you were stuck. In need of milk and baking staples? Run to the local grocery store! Need gas for your car? The gas station is a block away. Now we have to keep gas in a can in case of emergencies, and the nearest gas station is over 10 miles in each direction. While we don't live too far out that basic necessities are inhibiting to our lifestyle, it's still been a bit of culture shock for us. We love being out here, though, and we don't ever want to leave. The nice thing, too, is that we are surrounded by some pretty amazing Amish and country stores (and we will soon offer a country store of our own!).
While we were out running errands, we quickly finished our task and sat in the parking lot saying, "Now what should we do?" Of course because we drove all the way out to town, it seemed wrong to just drive back! We decided to wander into the feed store, talking all the way about how if we got some ducks now... they'd be out of the brooder by the time the chicks arrived... meaning we could save some money on purchasing another metal trough... and we already had all of the brooding supplies... Right?! We were going to wait to get our ducks and brood them separately from the chicks because it'd just be too crowded and messy. Luckily ducks are a lot hardier than chicks and are ready to spend the night in 50°F weather once feathered. That was enough to convince me!
Here they are at about two days old, our little ducks! When we arrived at the feed store I felt that overwhelmingly nervous again, the same as last year. You get to the bins and look inside, hopeful, and when the clerk comes to help it's like you suddenly forget everything that you had just taught yourself! Wait, how do I take care of a newborn animal again?! But it's already been a lot easier this year. I don't feel as nervous about constantly moving the heat lamp or adjusting the temperature, about bedding getting in their water or about if how much they are sleeping is normal. I've only checked on them overnight twice so far! They are happy and splashy and absolutely adorable.
I had actually called a few days ahead to see if the feed store would have ducks at all. If you are a local and you'd like to get ducks, then you'll have to go to Orscheln's. We've gotten our chicks from Theissen's before, but they've never carried ducks in all of the years that we've lived here (not many, but I do check!). Orscheln's in Iowa City is where I've seen ducks, though the Washington location might have some, too. Make sure you call ahead! Because I peered into the duck bin, knowing they'd have day old ducks, and saw only one breed inside. That was fine! It's kind of like playing roulette. You don't really know what you're going to get, and that sometimes might mean you get a duck breed that's not your ideal... For instance, we packed up our ducks and got into the car. I quickly hopped on my phone to figure out which breed we had gotten, as the clerk had no idea and they weren't labeled. After looking at a chart, it said they were Welsh Harlequins. I was so excited as that breed are superb layers and mothers and you can tell which gender you have at just two to three days old. However, upon looking up chicks of that breed, they didn't match at all. Back to the hunt!
I came to find out that these are Rouen ducklings, a prolific meat bird and not such a great layer. Well... shoot. These are heavy weighted birds that resemble a Mallard and are most often purchased as a meat duck. I am not sure that we'll ever butcher them... but I don't know! I don't want to say 100% no to that option. For now, I am too in love and find them extremely entertaining! It's absolutely true what they say about ducks sticking together and following each other in a little group. If one decides to eat some feed, they all go to eat. They all go to drink together, and they all sleep in a little pile snuggled together. Our chicks last year would just keep going until they passed out alone in the middle of the brooder. The ducks are very resilient and quiet compared to chicks. They don't really peep too much or loudly at all, and they are more inquisitive and calm when we hold them. I really love them! As for making a mess, I have not noticed too much of a mess compared to chicks... In fact, compared to the chicks we brooded last year, they were much messier. They scratched up bedding constantly, dumped bedding and poop into their water and feed, and were always covered in filth. Not so much with ducks! Not even much spilled water... yet!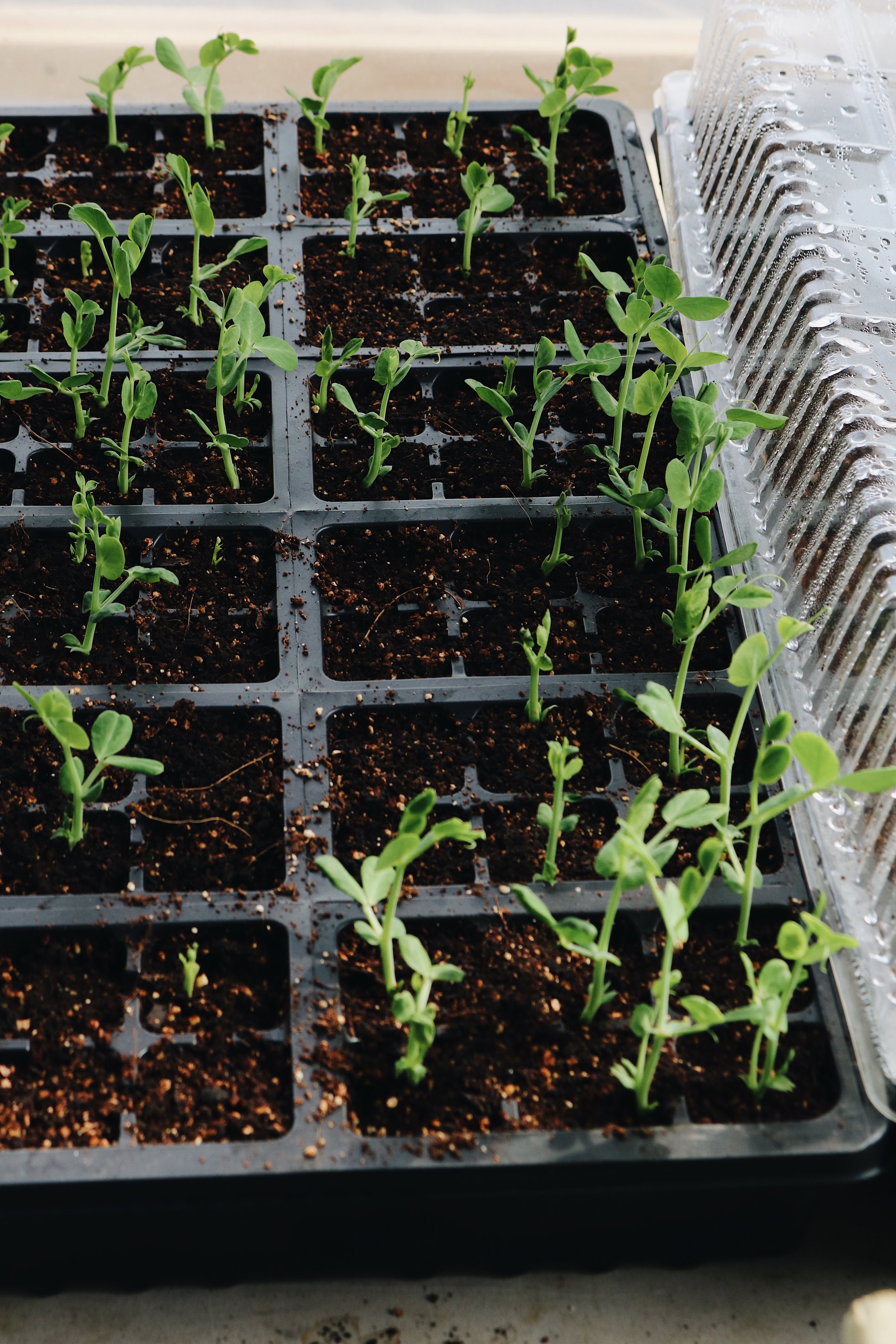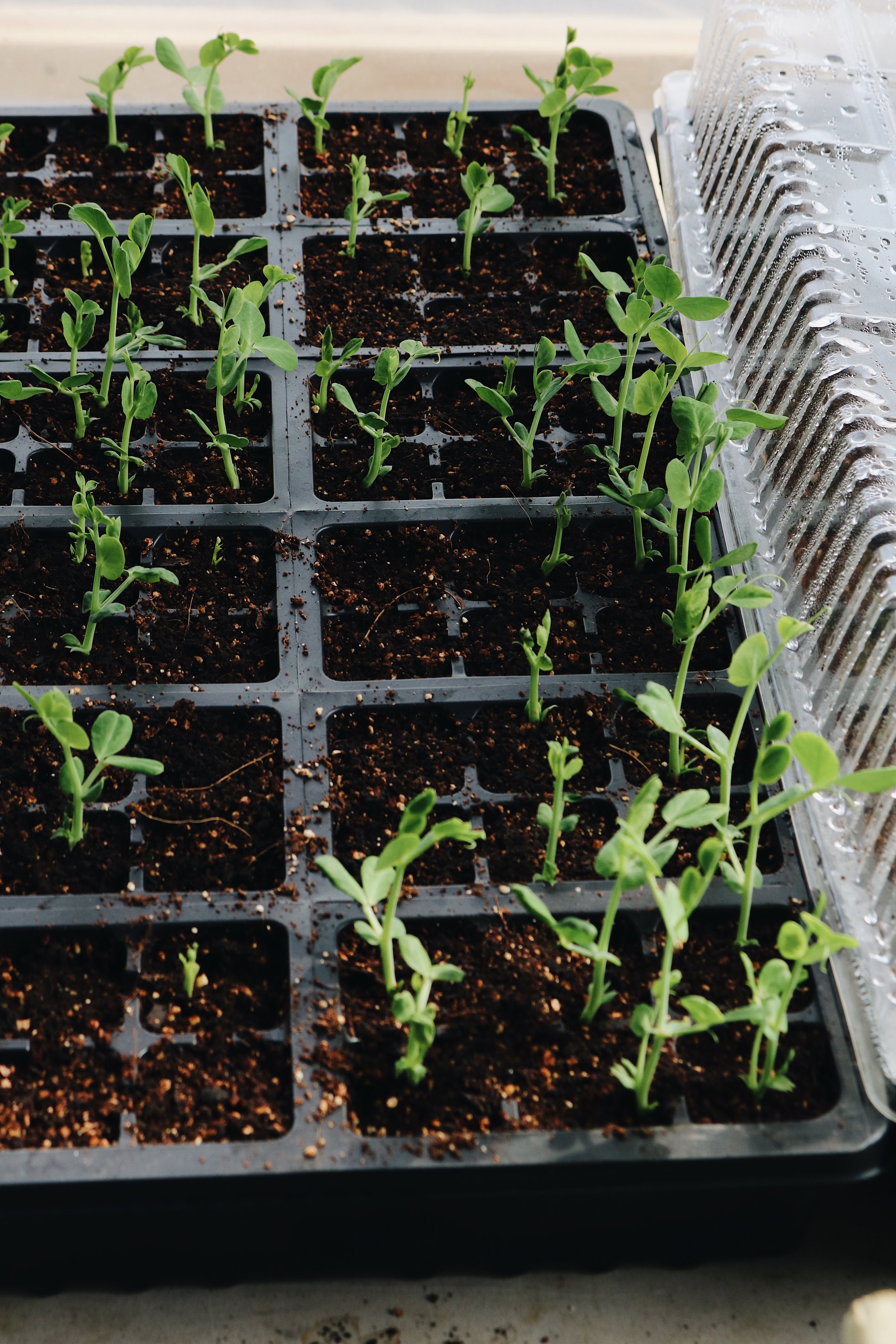 As for the rest of the farm, we are hanging in there! It's been a Midwestern winter so far... though I believe Iowa is technically in the Heartland. Ha! We've seen winter and spring too many times to be sure it's true spring, sometimes even on the same day! I am not quite sure at this point when we'll till into the soil and plant our first direct sowed seeds and transplant the hardier seedlings like kale and broccoli into the ground. It's just kind of a waiting game. If anything, we might start tilling this weekend and add some top dressing to the soil, waiting until we can plant. Our germination rates have been all over the place, and I can only blame that on our makeshift greenhouse which has varying temperatures every single day. Once we have it glassed in and the heat regulated, that will make a huge difference. The good thing is that I started pretty early and planned everything ahead of time to account for that. Yay for planning!
The ground is softer and there are small patches of green grass everywhere, but everything still mostly looks dead and bare. It is really difficult to be a lover of outdoor photography when you hate everything you shoot. It's just boring and dismal. Honestly, I feel off my game, but I know everything will change once the world turns green and vibrant again. What a difficult winter it has been! I also keep finding dead animals everywhere I turn, all in thanks to my expert hunting cat, Poppy. Ugh! I never imagined finding a dead bird or mouse or chipmunk every single day I head out the door and onto the farm. Today he brought me another dead chipmunk and laid it promptly at my feet, so proud. I mean... it's great. His job is to catch mice. But I still feel bad! He's been a really fun farm cat to have, as he loves to follow everywhere we go, comes when his name is called, and cuddles during his naps.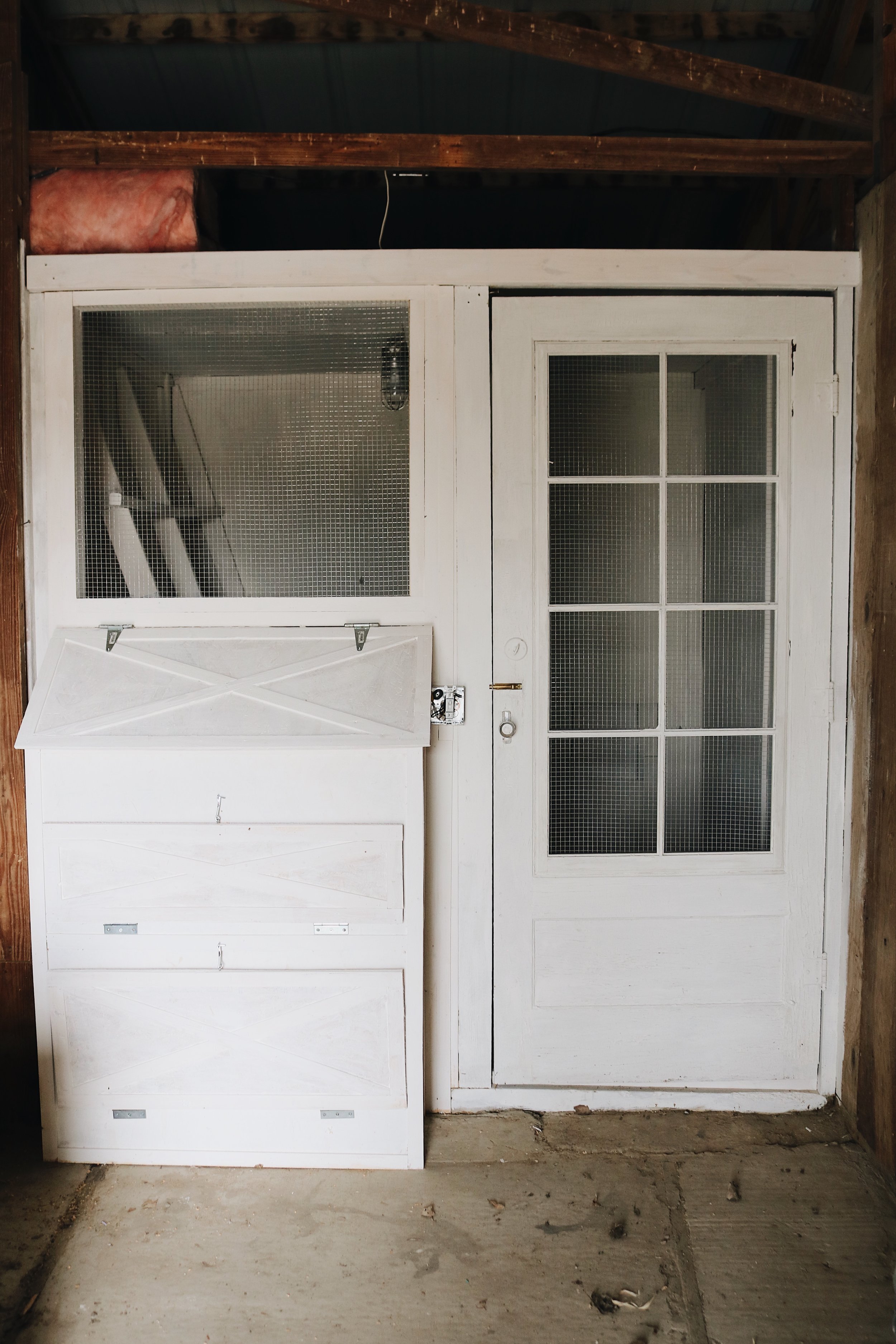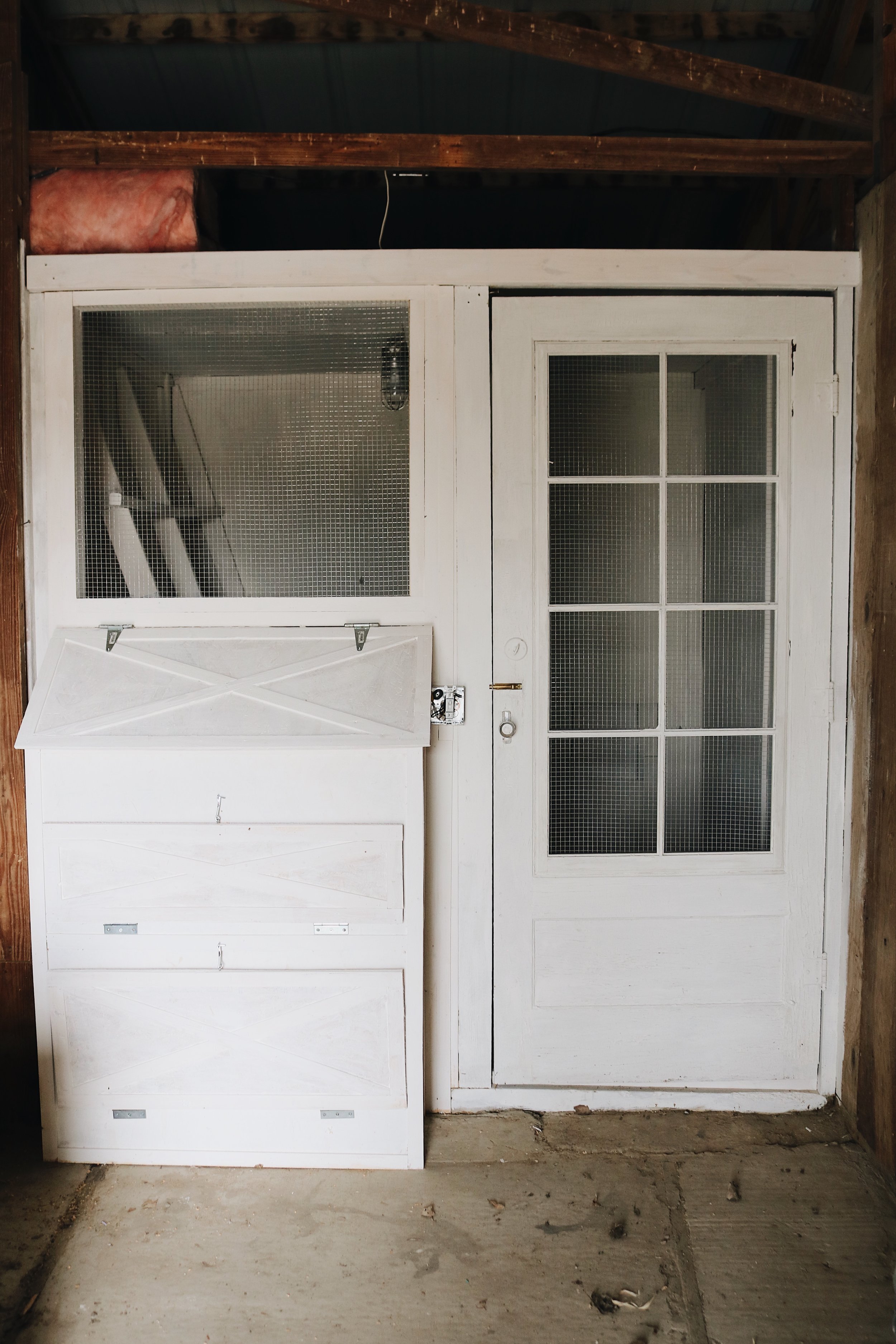 The rest of our time is spent prepping for the work ahead. The chicken and duck coop is finished, except for another coat of white paint! We'll be housing the chickens and ducks in the same place, which we made sure to accommodate for (I love Lisa Steele's knowledge on housing ducks and chickens together!). There will be 26 chickens and 5 ducks, unless we get a few more ducklings which we have been considering! The chickens will have 6 nesting boxes to choose from, and my dad put in a large duck nesting box that they can use if they want (I am not really sure how they'll decide that!). It's on ground level, since they can't hop up into the chicken's boxes. Ducks also sleep on the floor, unlike the chickens who will occupy the giant roosts we built. Aren't they crazy?! So different from our old coop!
Above is also what our store looks like - isn't real life fun?! Kurt's been framing all of the walls, and Jill's been designing the inside placing where all of our general store dreams will appear. It's going to be so adorable! There will be a large bar for customers and visitors to sit at and enjoy a hot cup of coffee and a cinnamon roll. We'll have a large chalkboard (from the old studio!) filled with CSA pick up vegetable lists and planting schedules and even class information (yep! I want to teach on-farm classes). I have been looking into what sorts of items we'll want to stock, and I have to say, it's already getting me giddy! I want brushes and garden tools and waste free living supplies and bulk herbs and teas. Plus we'll have our fresh produce and cut flowers available when in season. So fun! So excited! We're hoping to open in June, just in time for CSA to start.
I hope you are all having a great start to spring!
xoxo Kayla
More Posts You May Enjoy!